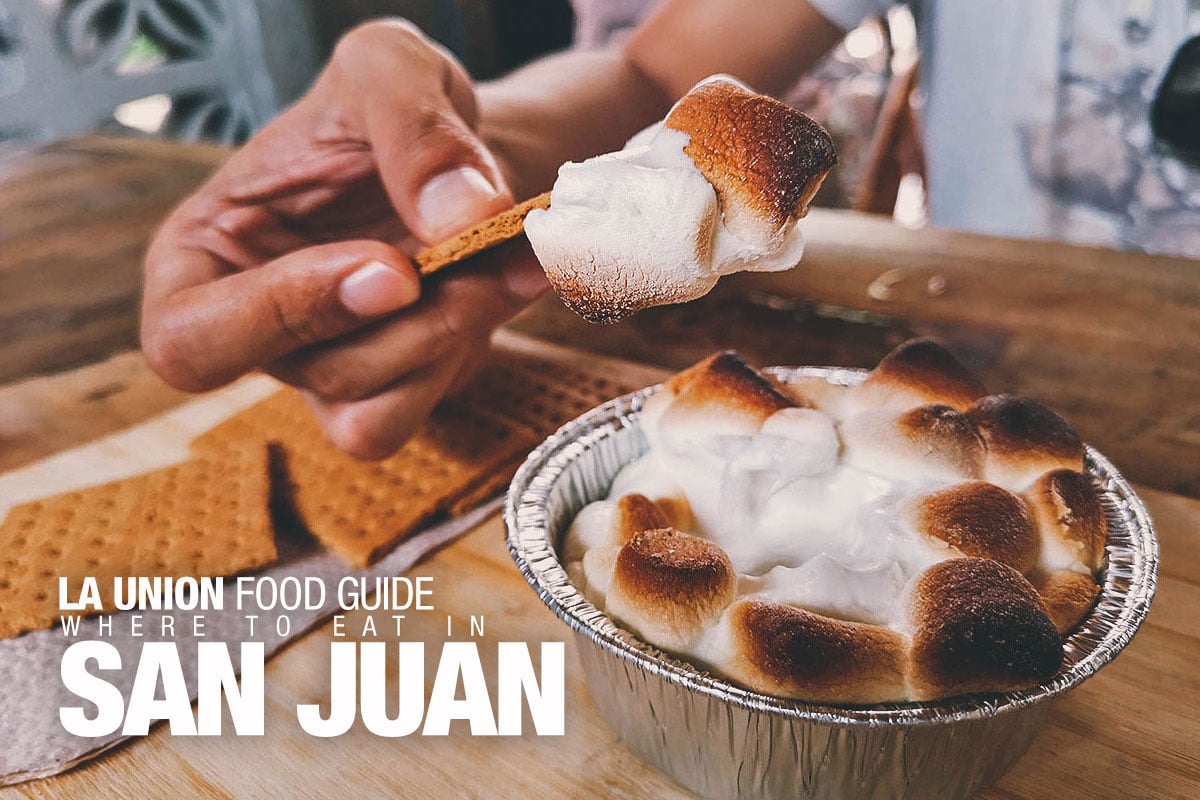 La Union is mostly known for being the surfing capital of the Philippines.
For this reason, most people would associate the laidback municipality with the sun, salt, beach and the waves and most recently, its food. Indeed, while this surfing paradise is widely regarded as the mecca for aquatic sports enthusiasts, its reputation for being a food destination has been growing over the years. After all, being the most accessible surfing spot from Metro Manila, the province sees a regular influx of tourists and locals each month which invariably means good business. In this regard, restaurants and food stalls have started cropping up over the years catering to the hungry crowd of surfers and non-surfers alike.
There is no doubt that the waves of tourists La Union welcome is mainly composed of sun-worshippers and swimmers but for a beach town, it has a promising food scene that delivers quite nicely. Along the beach and the parallel road, one can find a bustling and colorful food scene with a series of restaurants offering a wide array of cuisines—both international and local. These eateries are punctuated by cafes and street food stalls that have some uniquely diverse offerings that are sure to ensnare the inner foodie in you.
LA UNION'S CUISINE
La Union's food scene is incredibly diverse. As the municipality welcomes hordes upon hordes of tourists each month, it would be easy to see why the food scene is greatly inspired by international cuisines insomuch that tourists might even enjoy a taste of home from one of La Union's many food stalls and restaurants. Of course, locals are not left out seeing as La Union is best known for their Halo-Halo de Iloko, a sweet and rich ice cream dessert that is unlike any other halo-halo you have ever experienced in your life.
In fact, it has been said that no trip to La Union would be complete without indulging one's self with this sugary and creamy dessert staple that is said to rival even the Philippine's best known halo-halo offerings. Apart from the famed dish that is said to give your meals a sweet ending, La Union has their very own rendition of bagnet, a crispy and succulent pork dish. The fried pork belly dish hails from the Ilocos region (which is just a little north to La Union). La Union's version serves it in a rice bowl that is enough to feed one person and get him or her through the day.
For just a little over a hundred pesos, you get a rice meal for yourself and a taste of one of the most supremely crispy deep-fried pork belly that is best enjoyed dipped with their signature sauce.  La Union's bagnet rice bowl will probably be one of the crispiest pork dishes you will ever have in your life so you should definitely not miss it.
WHERE TO EAT IN LA UNION
Olives Restaurant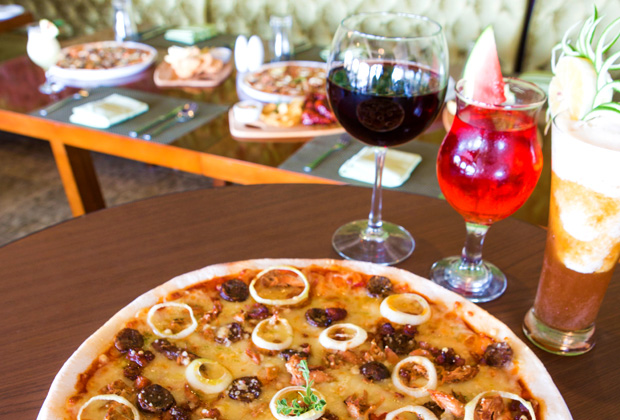 Located inside the lush and luxurious casino resort, Thunderbird has its very own slew of restaurants that will likely delight and enchant diners. Olives Restaurant is the perfect choice for individuals with a more discriminating taste and who expect nothing less than the finest cuisine. The restaurant's menu consists of mainly Mediterranean food options which are aptly served in an ambiance reminiscent of Greece's Santorini. The restaurant is styled after the Grecian city and emulates it rather well insomuch that people would often come here for the view as much as the food.
Fira Beach Club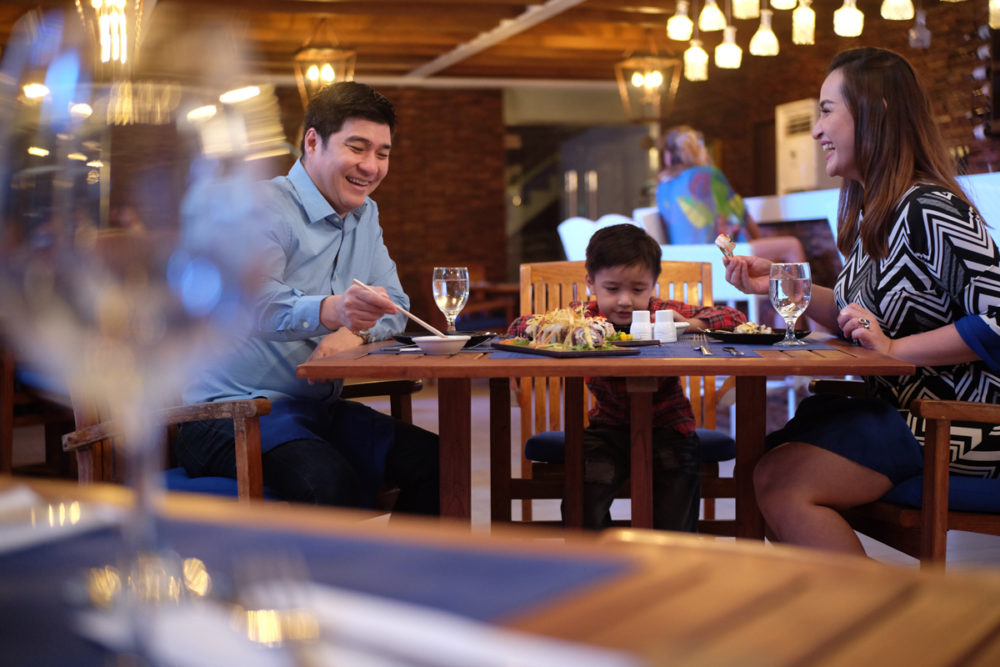 Located at Poro Point and within Thunderbird, Fira Beach Club is a wonderful fusion of a restaurant and a bar. Their menu boasts of a wide array of drinks complemented by a Japanese inspired menu. Diners with a hankering for Japanese food while in La Union should definitely hit this place up.
The Cliffs Restobar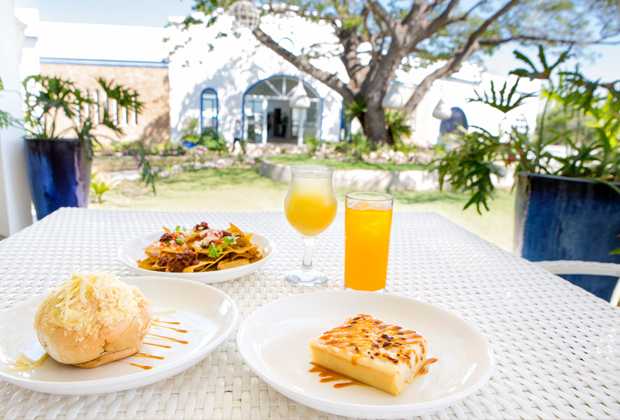 The Cliffs is a Restobar that recently opened in Thunderbird's new clubhouse. It is the preferred dining option for golfers and other members and crew of The Cliffs Golf and Beach Club. The menu is an excellent mix of Mexican favorites and Filipino dishes making it the perfect chillout place after a game of golf.  
Gefseis Greek Grill
Any quick search on the internet for La Union's must-try restaurants would automatically include Gefseis. Apart from being widely covered by social media influencers and bloggers all over the world, the restaurant is known to top most lists when it comes to the La Union's must-try restaurants and eateries. The restaurant's ambiance draws inspiration from Santorini Greece and incidentally serves Greek food as well. Considering that Greek restaurants outside of Manila are quite rare, it is quite a feat to find a good one in La Union which means it is definitely worth the visit.
One of the restaurant's bestsellers which combines different types of grilled meat of your choosing (lamb, beef, pork or chicken) served with two pieces of pita bread or Greek-styled rice. It comes with a serving of fries, vegetables and a sauce that adds punch to your dish. To whet your appetite for the main course, start your meal with the restaurant's bestselling appetizer. The dish is basically a Greek rendition of cheese sticks made with sagnaki cheese and served with lemon. However, the unexpected fusion between the saltiness of cheese and the tanginess of lemon is sure to give you an unexpected flavor that is sure to have you looking forward to your main meal.
Surf Shack
More of an outdoor bar than anything else, Surf Shack is definitely one of the must-try restaurants in La Union that cater both to local and international tastes and palates. Part of the restaurant's charm is bolstered by the live band's music filling the air with the menu consisting of favorites such as pizza, buffalo wings, and other finger food delights. Some of the food you should definitely order is Mommy Lou's Gourmet Tuyo Pizza and the Ilokano Pizza (with Vigan longganisa).
El Union Coffee
While La Union has its very own Starbucks coffee shop, it pales in comparison to the local café that stands out among locals and even tourists alike due to its popular coffee offerings. El Union is definitely unlike your usual coffee shops. This boho-themed café is without the usual industrial setup you would find in most coffee shops in Manila but is leaning towards the subtle charm of quaint coziness. As the coffee shop is rather small, the casual and relaxing spot can accommodate only about 10-20 persons at one time which makes the setting even more intimate. Some of the select favorites that you should definitely give a try should be their Dirty White coffee blend paired up with their Indoor S'mores for an excellent afternoon or after surf snack.
Mad Monkeys
What makes Mad Monkeys stand out is definitely the chill vibes it exudes. This unassuming burger shop is just a stall along the highway near Urbiztondo but their burgers definitely pack a punch. It has an open air ambiance that is well complemented by the good music and of course, good food. While the food joint is said to offer only burgers with patties slathered in cheddar beer sauce and a siding of fries, it has become so popular that the place is almost always packed. So, if you get the chance and are a burger fan yourself, you should definitely hit this burger joint up.
Tagpuan
Located just beside the Mad Monkey's burger joint, Tagpuan is a restaurant that will definitely surprise and delight you. Tagpuan has a very focused menu specializing in Filipino rice bowls topped with meat favorites such as tapa, pares and chicken adobo flakes. Their best offering, however, has to be the bagnet rice bowl which costs a little over a hundred pesos. If you are looking to sober up after a night of drinking by the beach then hit this hole-in-wall eatery and treat yourself to some of their indulgent rice bowls.
Olas Banditos
The authenticity of Mexican cuisine is not lost in La Union's diverse food scene and offerings of food fusions. In fact, if you are looking for the best Mexican place to dine in La Union, you will never go wrong with Olas Banditos. Plus, it has been said that good and authentic Mexican food and surfing make a good pair, so you might as well check the restaurant out after one of your surfing excursions. When it comes to Mexican food fares, Olas Banditos certainly does not disappoint. To get a sampling of what Mexican and local fusion tastes like, try an order of Ilocos Norte Burrito which is essentially stuffed with Ilocos longganisa, fries, and cheese. It is definitely unlike any other burrito you have tried in your life before.
Flotsam and Jetsam
People who are looking to explore the party scene in La Union should definitely check out Flotsam and Jetsam. Dubbed as the place to be for nocturnal excursions, Flotsam and Jetsam is an incredibly popular hostel that draws hordes and hordes of the millennial partying public. In fact, it is somewhat of a tourist spot itself as the place is practically packed at night with almost everyone vacationing in San Juan in attendance. Apart from having a wide range of cocktails and beers, the hostel has a full menu as well. Their dishes include Filipino staples as well as international favorites. Some of the winning dishes the restaurant serves are Lechon Kawali and Crab Meat Rice.
Great Gamble Seafood Shack
Being a surfing municipality, it should be no wonder that La Union would have its very own seafood restaurant. Great Gamble Seafood Shack is best known for its seafood sandwiches and rolls. Their bestseller happens to be their Classic Quarter Pounder contains ¼ lbs of crab, shrimp, and scallop in a brioche roll—a seafood sandwich roll that remains unmatched to this day. Apart from the seafood sandwiches, the restaurant also serves seafood pasta dishes as well.
Sabong La Union Fried Chicken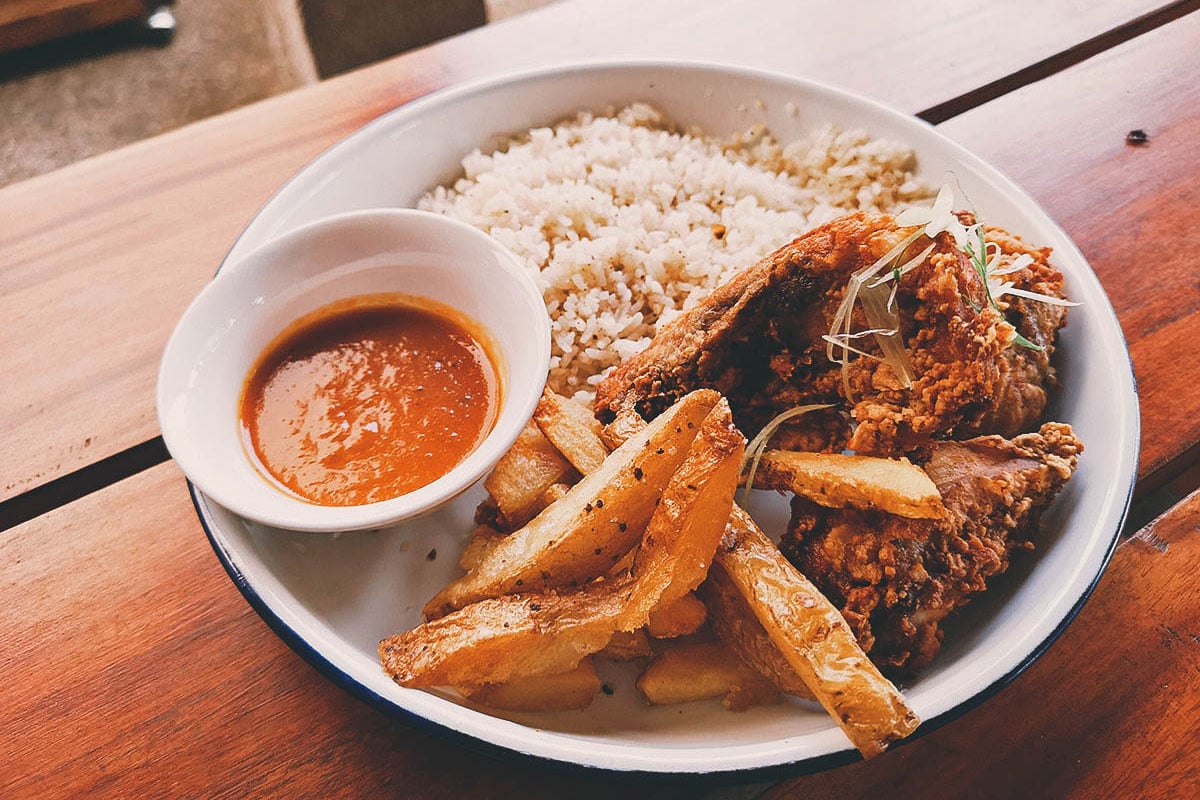 Fried chicken lovers, rejoice! La Union has its very own signature fried chicken dish that is sure to rival fan favorites such as Jollibee's Chickenjoy and KFC's signature fried chicken. As the name suggests, Sabong La Union Fried Chicken restaurant serves everything fried chicken but what makes this restaurant unique is their offerings of different types of fried chicken. They have every interpretation of fried chicken there is—from the classic fried chicken, Korean soy chicken to chicken glazed with honey and bagoong. The latter is definitely something you should try if you are looking for something that is a little more different than your usual fried chicken fare.
Papa Bear
Papa Bear is a restaurant with a themed menu focused solely on offering a variety of Asian dishes. This quaint but charming eatery in La Union promises to give you a brief tour of Southeast Asian countries with dishes like char kway teow, pho, and sambal pork. The house specialty is a bowl of begg which would cost you a little under two hundred pesos. A must-try for bacon lovers, the dish contains house-cured bacon cubes served with sous vide egg over rice. Another in-house favorite is the sambal pork which is said to attract many tourists to the restaurant.
Layag Grille and Kilawen Bar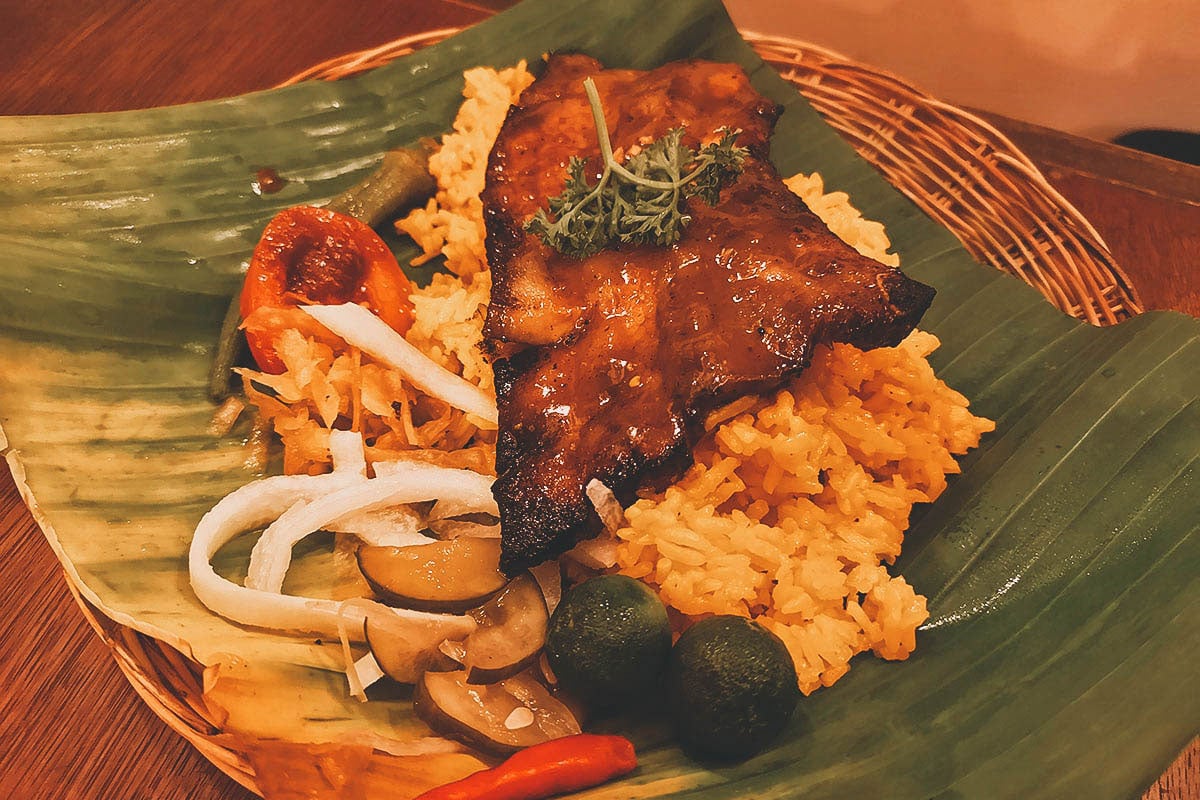 Lovers of different kilawen dishes as well as Filipino inihaw (grilled food) would find themselves at home in Layag Grille and Kilawen Bar. Kilawen is a native specialty of the Ilocos province and consists mainly of either goat, beef, pork or fish that has been cooked by the acidity of organic vinegar or calamansi. In this regard, many uninitiated diners would misinterpret the dish as uncooked and raw while in reality, it has been cooked by the vinegar or calamansi. However, while fish kilawen is somewhat commonplace in the Philippines, goat is not and is something you should definitely try when in La Union.
Makai Bowls
Back in the day, Makai Bowls used to be located at Flotsam and Jetsam but they have since moved to their own location at the Travel Stop. This popular eater in San Juan is well-known for their healthy fruit smooth bowls that are made with different types of fresh fruit and homemade granola. They make for interesting and vibrant additions to anyone's Instagram feed and are just as much of a visual delight as they are a gustatory one.
Seawadeeka
Some of Seawadeeka's offerings include pad Thai, nasi lemak and satay. Indeed, this restaurant specializes in offering Asian staples. This restaurant had its humble beginnings and started out as a food truck for a number of years before having a permanent location in 215 Urbiztondo. Some of the restaurant's must-try menu items are the banh mi and glasses of Thai iced tea. The latter food offering is a refreshing way to quench your thirst after braving San Juan's rather humid weather—particularly during the summer season.
Mamba's Kitchen
Mamba's Kitchen is probably the most popular restaurant at 215 Urbiztondo. It is just a couple of blocks from nearby Seawadeeka and is almost always packed with diners. The place is known to serve breakfast, sandwiches, and burgers.
Bar-You Tayo
Although widely regarded as a nocturnal watering hole by locals, Bar-You Tayo serves a wide array of Filipino food items. However, most of their menu items consist of beer match and pulutan fares, so it is probably best to head to this restaurant if you are looking for a drink.
Leche
Cool off after a day of lounging at the beach with an ice cream cone in hand made by Leche's. This ice cream parlor is popularly known for its more peculiar ice cream flavors inspired from Filipino favorite dishes such as coconut three-way, champorado-tuyo (chocolate porridge and dried fish), manggat suman (mango with steamed rice cake). So, if you have a proclivity for ice cold and sweet creamy desserts with a twist, Leche is definitely the place to be.
Beach Bum Food Park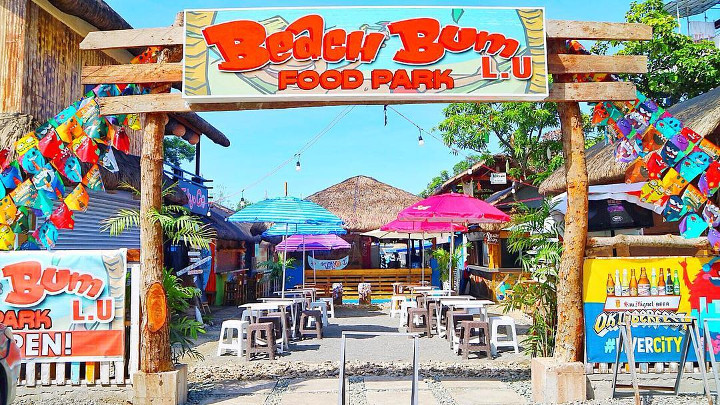 Known as one of the very first food parks in San Juan, Beach Bum is a local favorite. The food park hosts a variety of food offerings that would cater to most palates. Considering that food parks are all the rave in Metro Manila, it should be no wonder that they would start proliferating in provinces that see an influx of tourists each month such as La Union. Incidentally, Beach Bum offers a cheaper alternative for people who are looking for something to drink as the beers are much cheaper than anywhere else.
Beach Bum BBQ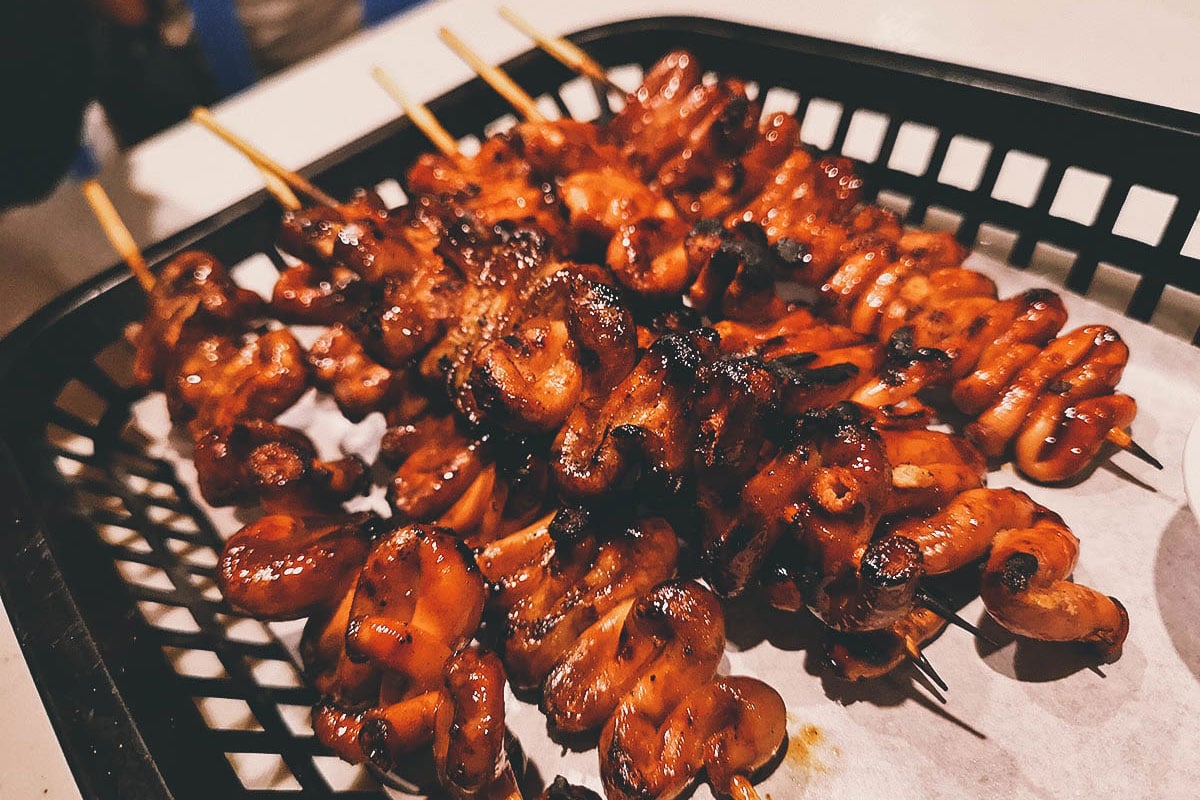 Filipinos love variety when it comes to their grilled food or local inihaw. For this reason, places like Beach Bum BBQ which specializes in offering grilled food have the propensity for success and popularity among locals and tourists alike. Indeed, Beach Bum BBQ is one of the more popular and successful food stalls in La Union and it is easy to see why: Filipinos love munching on grilled food while drinking. More importantly, grilled food items on sticks do not usually cost that much which makes them a very popular beer match.
Mang Enteng's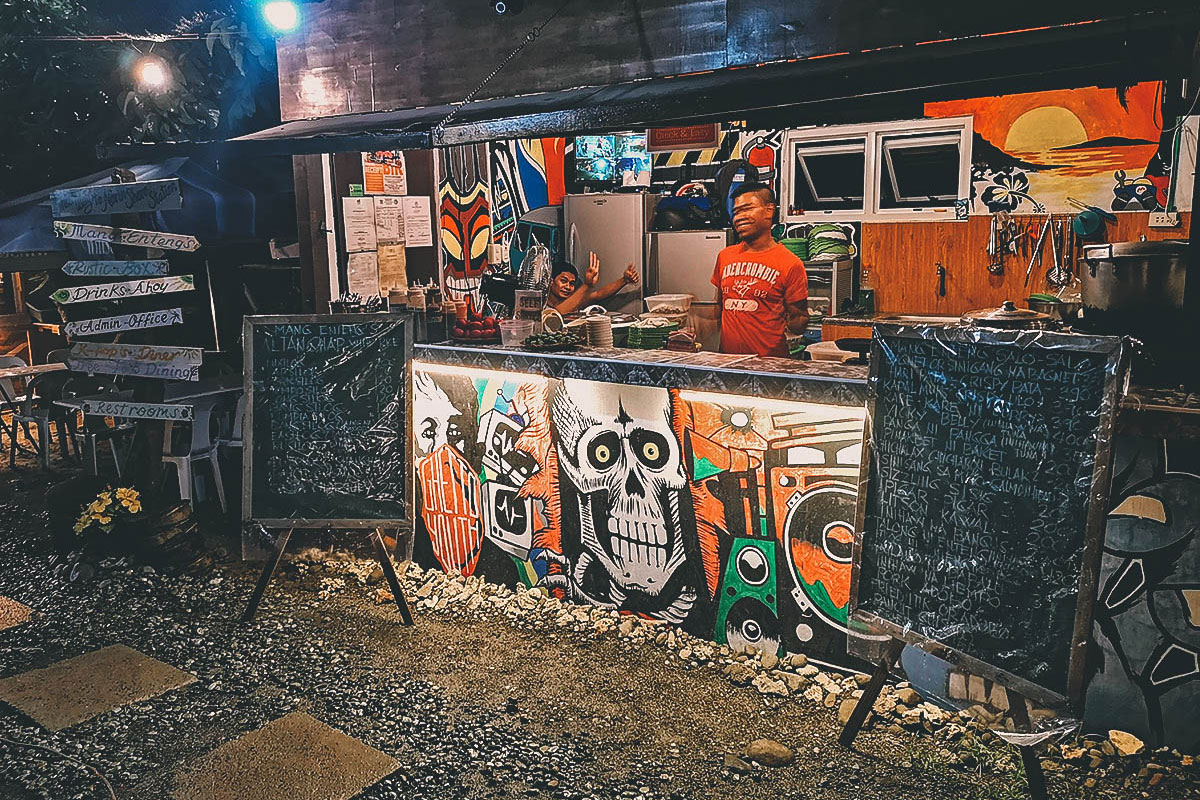 Individuals with an affinity for more sinful delights such as crispy pata (deep –fried pork hocks), sisig, chicharon bulaklak (fried pork intestines) and liempo (grilled pork belly), Mang Enteng's is the place to be. These food fares might potentially be detrimental to your cholesterol levels and are not exactly what you would call healthy, but helping yourself to some of these rather indulgent beer-match bar chows is definitely something you should do when you are on vacation.
Beach Break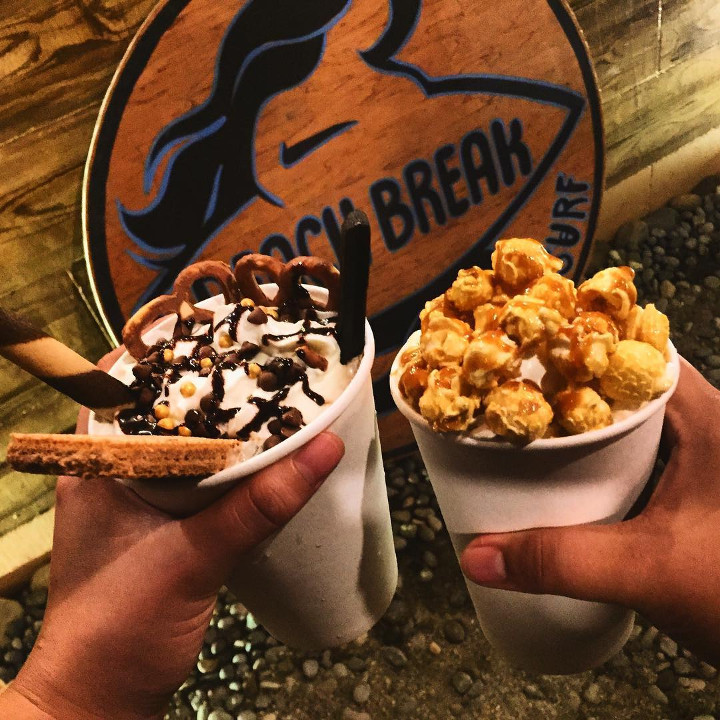 This La Union eatery is a hodgepodge of all sorts of snack items from grilled cheese sandwiches, dumplings, empanada to onion rings. If you are looking for a quick bite to eat, you should definitely hit this restaurant up.
Tokyo Go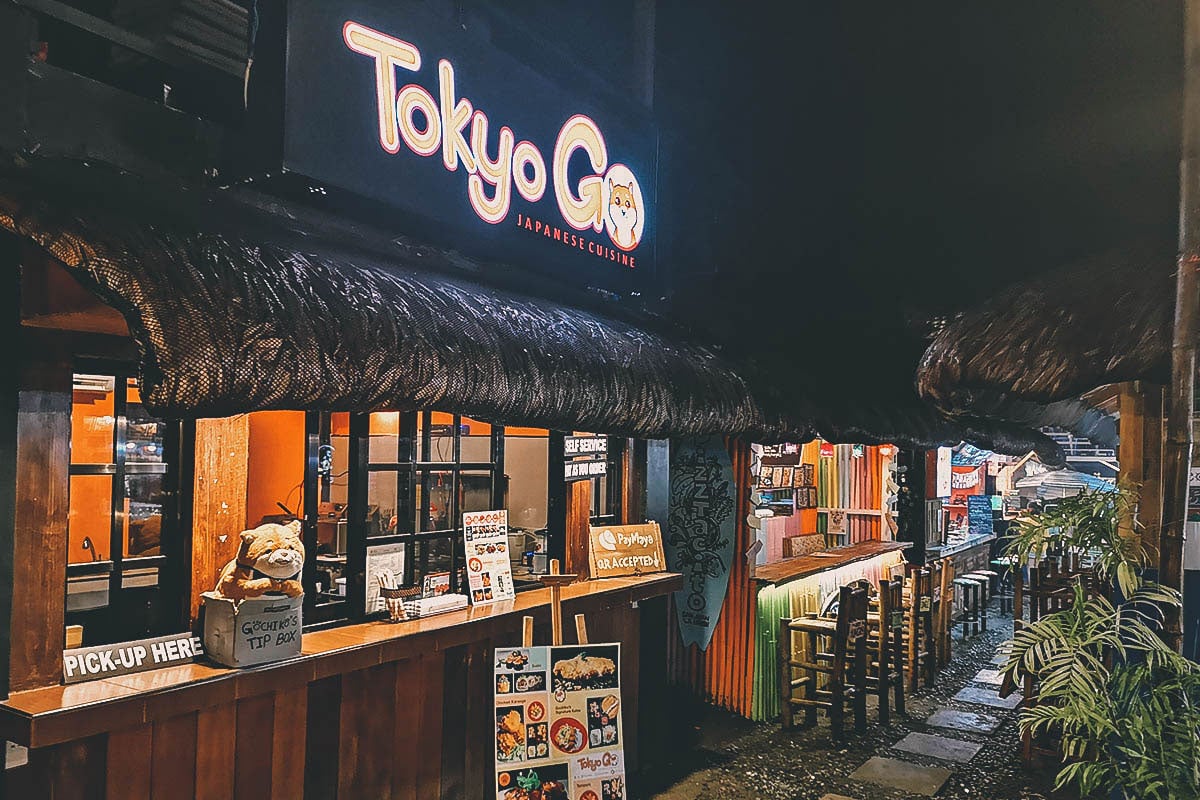 From the moniker itself, you would have probably known that Tokyo Go serves everything Japanese. Some of the food fares you will find here are katsu, karaage, sushi and so many more. So, if you find yourself with cravings for Japanese food amid your surfing excursions, know that you have a dependable place like Tokyo Go to dine in.
PizzaTacito
PizzTacito serves mostly pizzas with their menu boasting of ten pizza varieties. Some pizzas are inspired by Filipino favorite dishes such as sisig, salted egg and Vigan longganisa. However, if you are hankering for something else, they have pasta dishes and decadent desserts to indulge your sweet tooth as well.
Chancho Loco
If Mexican rice meals are your thing, Chanco Loco will easily be one of your favorite eateries in La Union. The restaurant offers mostly Mexican flavored dishes with the bestseller being the barbacoa (slow-cooked beef).
K-Pop's Diner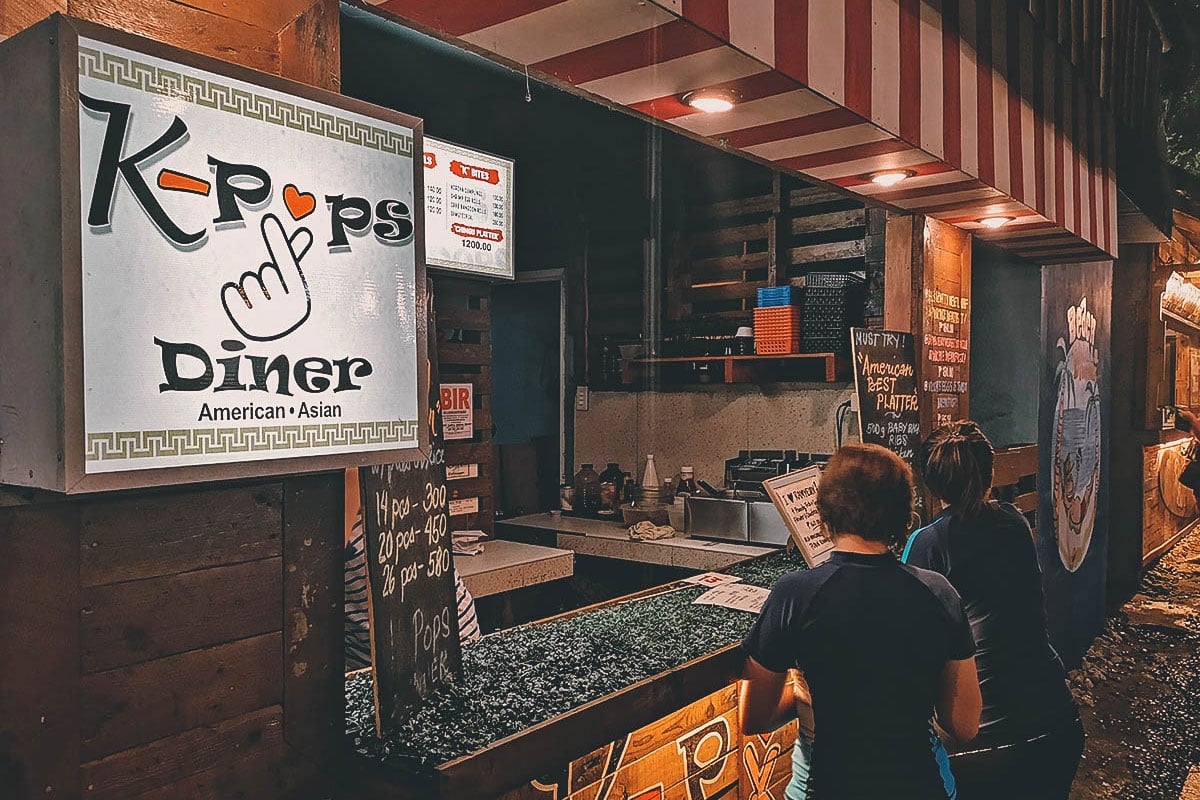 With all the rage K-pop has been gaining in the Philippines over the years, it is only a matter of time before a food stall with Korean inspired dishes would pop up in La Union. Surprisingly, however, this food stall does not only cater to individuals with a unique palate for Korean food. In fact, they offer a wide variety of dishes that includes Asian rice bowls, hamburgers, fish and chips, and even an all-day American breakfast. The name can sure be misleading but you can definitely find some Korean menu items here.
Rustic Box Steakhouse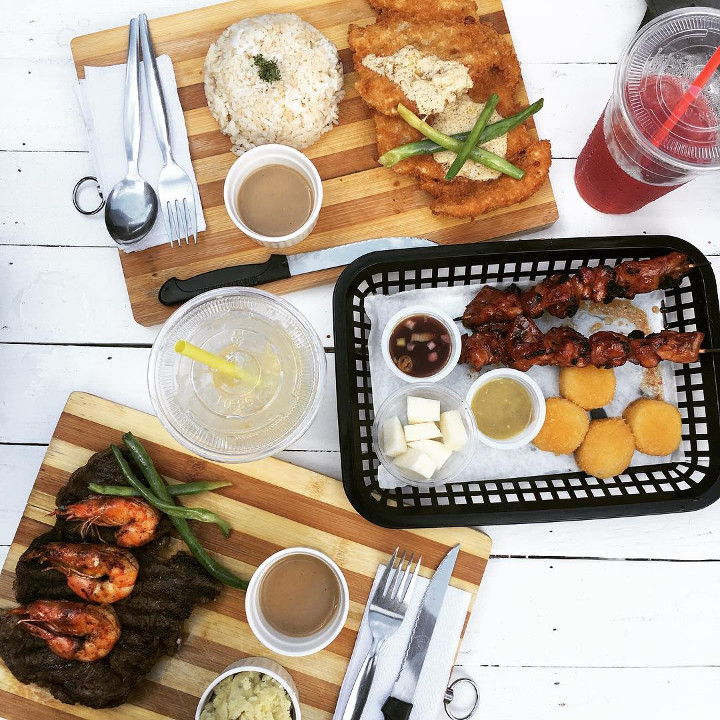 Located at the Beach Bum Food Park, Rustic Box Steakhouse is exactly as the name suggests: a food stall that caters to patrons with a hankering for steak. Luckily, steak lovers do not have to fork over an exorbitant amount just to satisfy their steak cravings as meals usually range around 250-350 pesos per person depending on the dish.
Papak sa Dagat
Translating to "snacking by the ocean" in Filipino, Papak sa dagat is a tiny stall that specializes in rice bowls and chicken wings. Their menu items are perfect for anyone who wishes to eat on the go and enjoy their food while watching the ocean waves.
Drinks Ahoy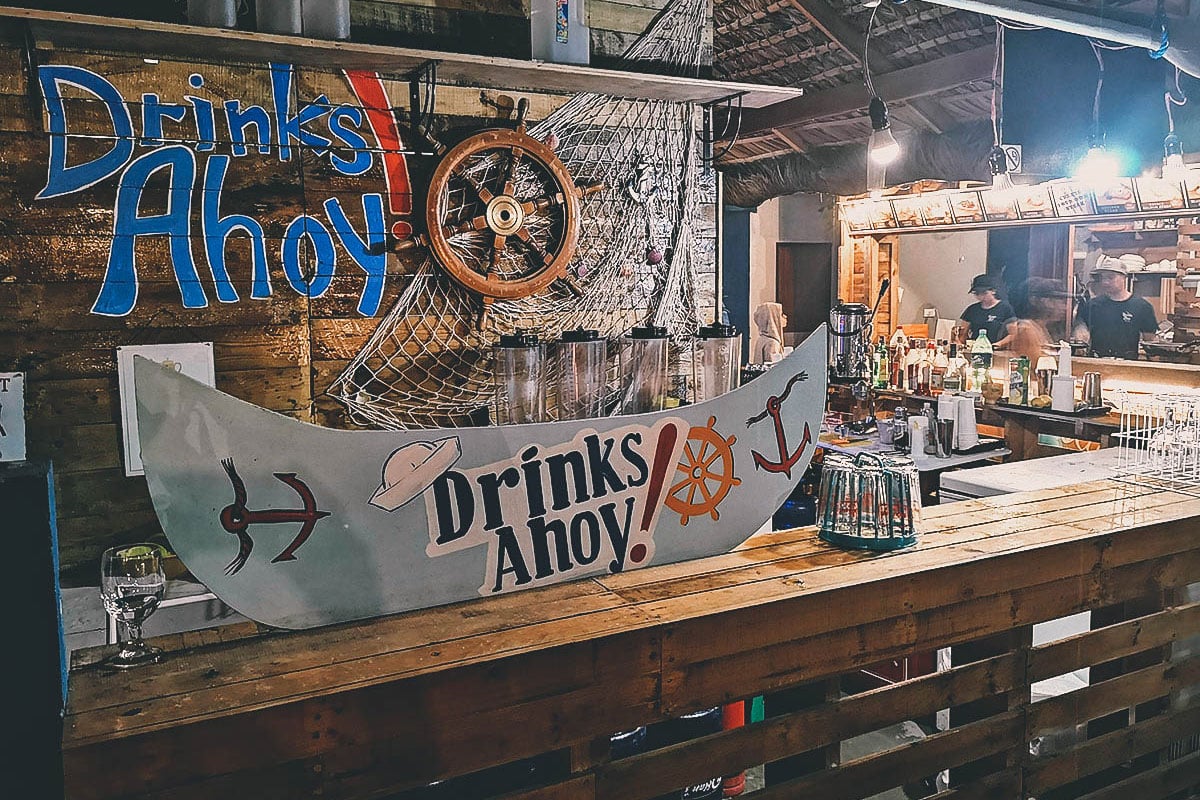 People who wish to wash down their dinner with a cold beer should definitely head on over to Drinks Ahoy. Located at the Beach Bum Food Park, cocktails and local beers are priced reasonably with a bucket of San Mig Light only for 270 pesos.
Indeed, if you find yourself in San Juan anytime soon on one of the Philippine long weekends this year, go beyond enjoying the beach and explore the local food scene as well. After all, these are pretty much not your standard provincial eateries as most of these restaurants are incredibly trend to cater to an incredibly diverse crowd. Indeed, with excellent menu offerings coupled with design-driven concepts, these establishments would probably fare just as well in major Philippine metropolitans as they would in La Union. So, give it a try as you might never know what local food would easily become your next favorite.