Where does one go surfing?
While most Filipinos who reside to the south of the country prefer the idyllic and island vibe of Siargao, city dwellers and metropolitan residents up North would rather head up to La Union in Northern Luzon. This is especially true for Manileño travelers who do not want to contend with booking airline tickets and air travel. After all, San Juan has always been the staple go-to when it comes to chill vibes, and laidback living and La Union has always been regarded as the Philippines' surfing capital where one goes to chase and ride waves. San Juan, La Union, has always been considered as the average city dweller's summer playground where they go to enjoy a brief respite from the perpetual hustle and bustle of the metropolis, catch and ride some waves. Indeed, a trip to La Union provides an avenue for a refreshing break from the constant grind in the city and has been a widely popular long-weekend or Philippine summer destination.
However, beyond its appeal as a surfing town, La Union has a lot to offer to surfers and non-surfers alike. There is a myriad of daily activities to be enjoyed insomuch that you can fill a three-day itinerary by exploring what the rest of the town has to offer. Travel activities range from exploring lighthouses to picking grapes but if your visit is primarily for surfing, then you best book your trips between the months of July till October (South Swell) or November to March (North Swell) as these are the months with the most favorable surfing conditions. In any case, if you have never been to the sublime Philippine surfing capital before, let this article show you the ropes and serve as your La Union Surfing Guide.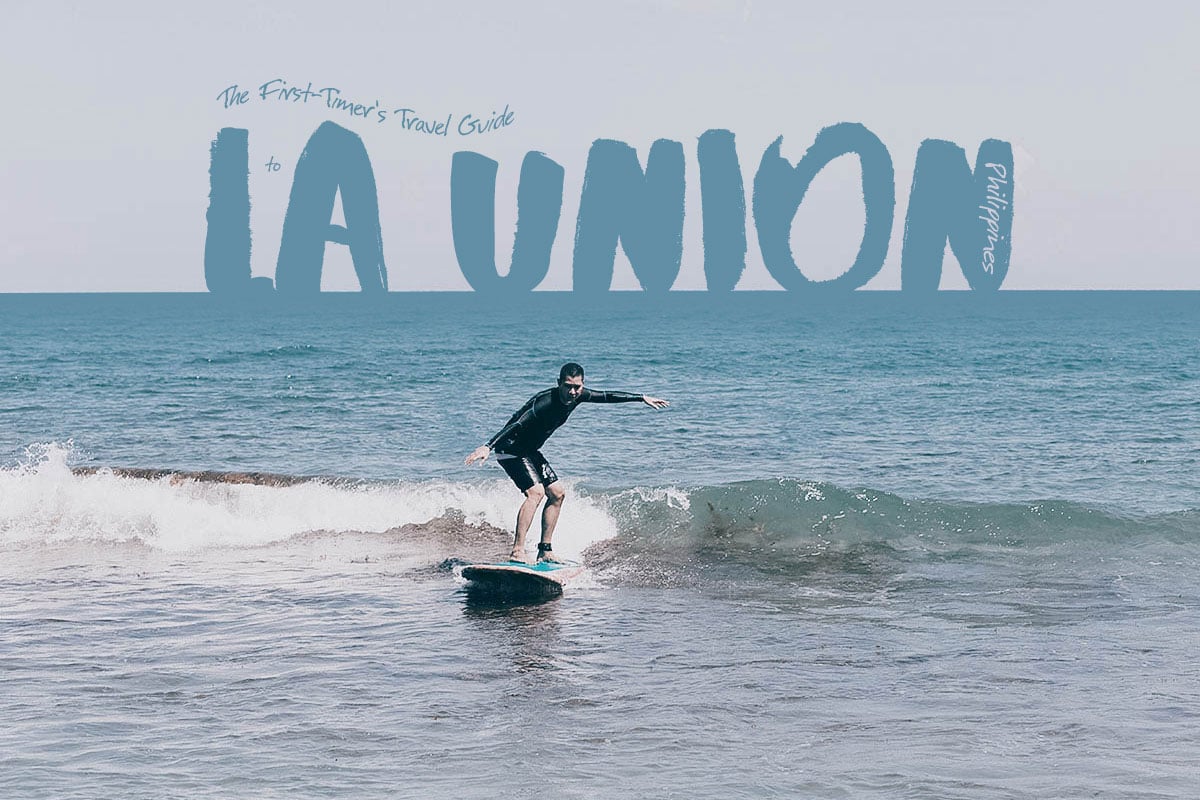 LA UNION TRAVEL GUIDE FOR FIRST-TIME TRAVELERS
HOW TO GO TO LA UNION FROM MANILA
TRAVEL TIME: 4-5 hours (depending on your point of origin)
MANILA- SAN FERNANDO-SAN JUAN
Driving to La Union from Metro Manila requires you to take the North Luzon Expressway (NLEX). From there, connect through the Subic-Clark-Tarlac Expressway (SCTEX) and connect to the new Tarlac-Pangasinan-La Union Expressway (TPLEX). Exit at Carmen Temporary Toll Plaza located under the Carma overpass in Pangasinan. From here, turn left following the Carmen-Poblacion Rosales Road then turn right to Teofilo Sison Bridge going to Villassis, Pangasinan. Once there, all you would need to do is follow the MacArthur Highway (National Highway) through Pangasinan to reach La Union.
For ease of navigation, download navigating apps such as Waze and Google Maps to ensure that you are taking and exiting the right roads going to La Union.  
WHERE TO STAY IN LA UNION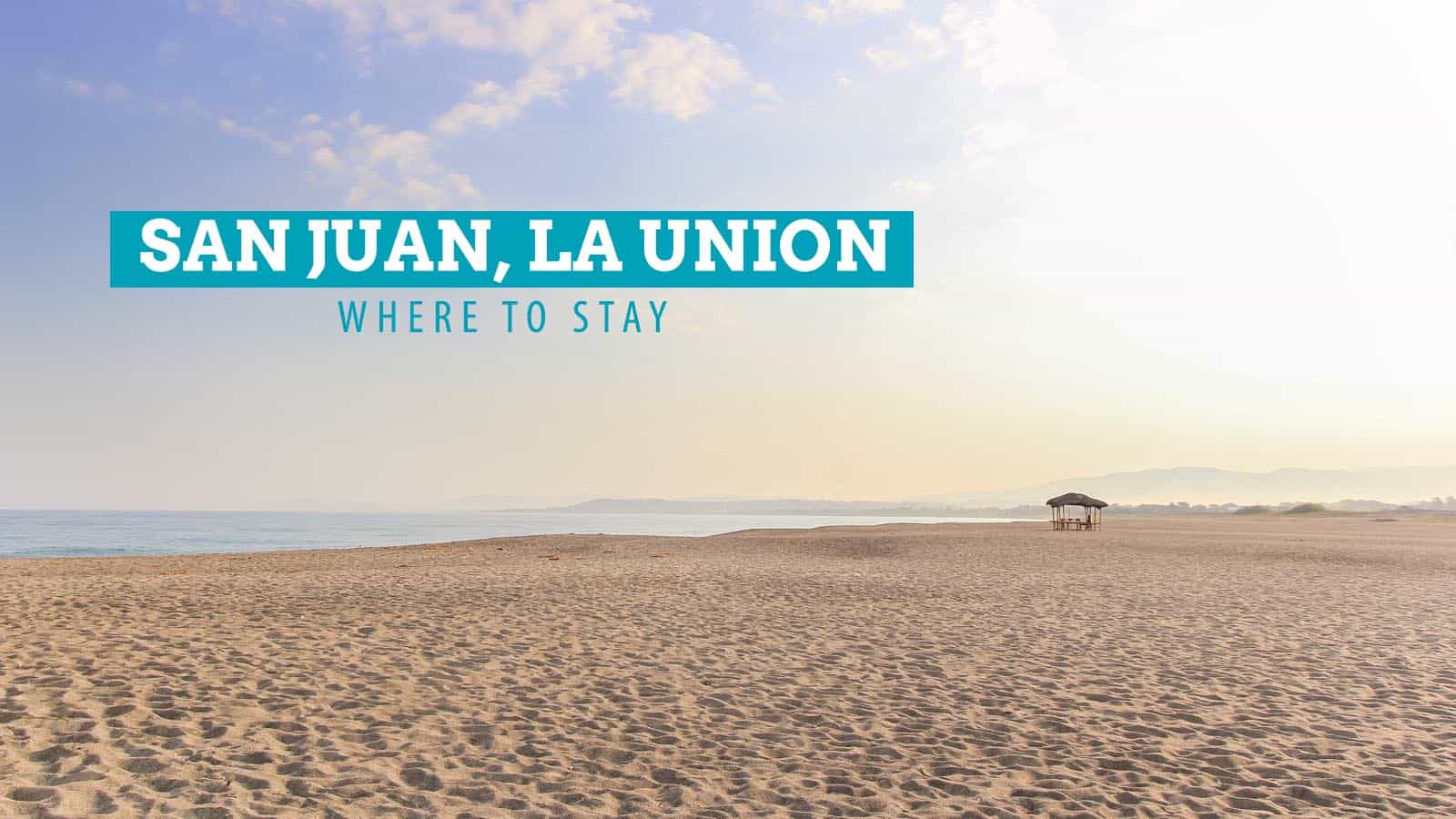 Ideally, travelers hailing from Metro Manila should pick San Juan as a base, but booking accommodations in San Fernando is an excellent alternative as the two is only a mere twenty-five-minute ride away from the beach. However, if you are looking for a budget-friendly accommodation, your best bet would be to stay in San Juan as the place is saturated with some of the most affordable and mid-range resorts and hotels. More importantly, the area is in proximity to Urbiztondo Beach –which is basically where surfers go to chase the waves.
Travelers who are seeking for a more luxurious stay would not have a difficult time finding one here as there is also a good range of options for travelers who wish to spend more for a more comfortable stay. Accommodation choices range from budget inns such as Isla Bonita Beach Resort to midrange such as Thunderbird Resorts.
WHAT TO DO IN LA UNION
Explore San Juan, the surfing town
Regardless of whether you are in La Union for surfing or not, your first order of business should be to explore the surfing town, San Juan. Apart from viewing the waves, the laidback scenery will surely encourage you to relax and take it easy insomuch that you can chill out at the beach without being compelled to surf. However, if you are up for it, try your hand at surfing and ask any of the local instructors for a lesson. Most surfing lessons range PHP400-500 depending on the instructor and would already include a rental board as well as the basic surfing training good for an hour.
Try your luck at Thunderbird Poro Point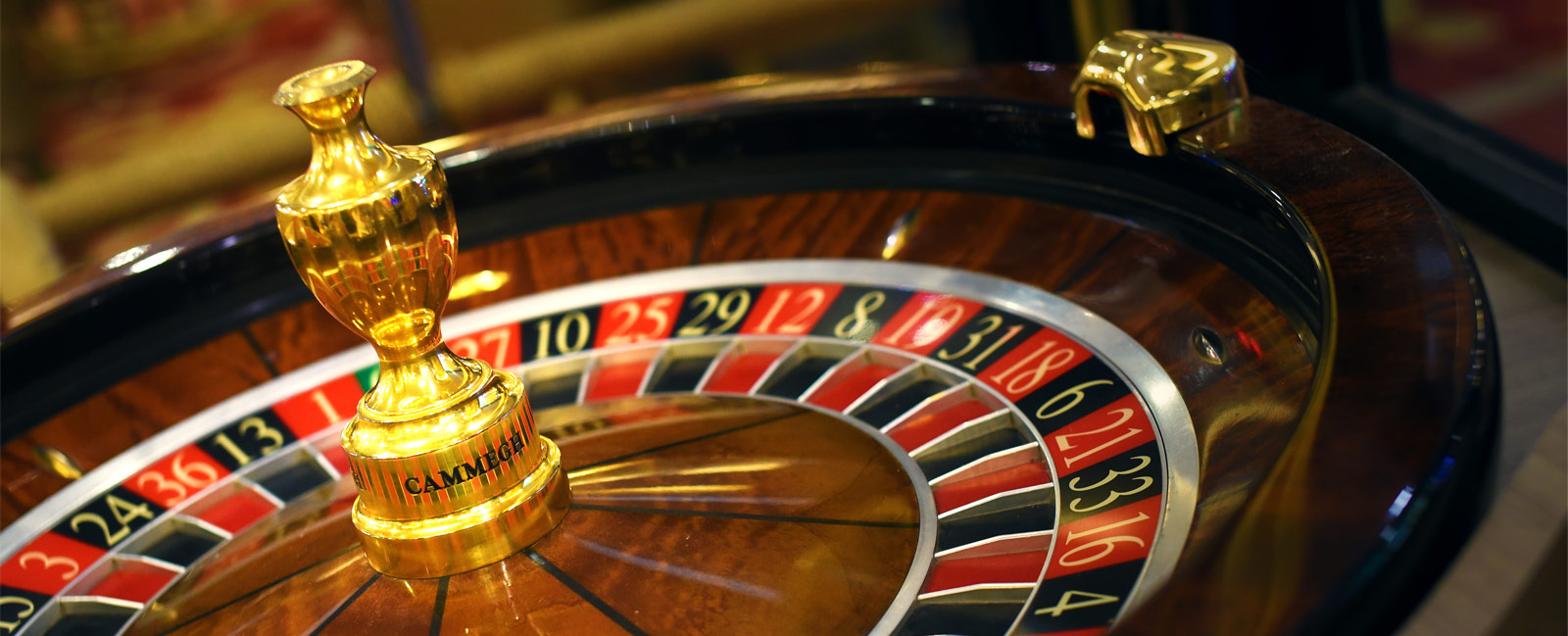 If you are not strapped for cash, you might want to try your luck at a fun game of slot machines or even a friendly game of Texas Hold'em Poker. While most travelers head to La Union for the surf, Thunderbird's newly opened casino might come as a welcome break to you if you are sick of the waves and are wishful for a local Las Vegas experience.
Hike and cliff-jump at Tangandan Falls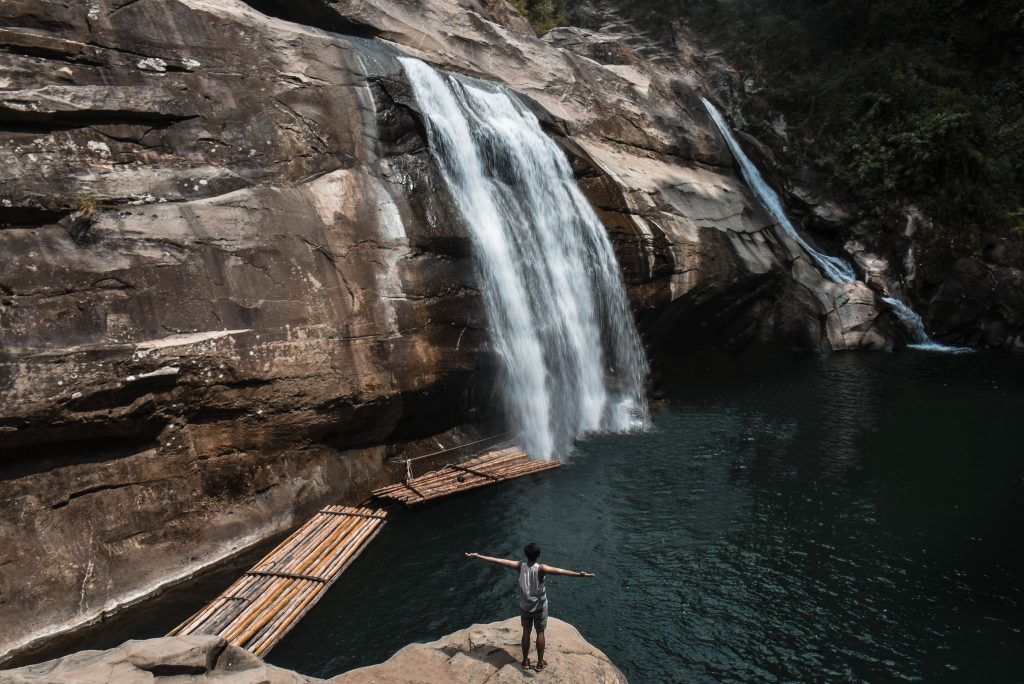 Located in the quiet and unassuming town of San Gabriel, the majestic Tangandan Falls is generating a lot of buzz among travel enthusiasts and adrenaline junkies who are looking for the next adventure. Take a break from the beach and see these beautiful waterfalls up close. It is located approximately thirty minutes away from the town center and would require a bit of a trek before reaching the waterfalls. However, you should not be daunted by the prospect of the hike as seeing the waterfalls for yourself is pretty much worth the effort.
Offer a prayer at Ma-Cho Temple
One might never imagine ending up in a temple while in La Union, but this is certainly an experience you should never miss whenever you are in town. Ma-Cho Temple is a picturesque temple found atop a hill in San Fernando.  While you can find a myriad of Taoist temples all over the Philippines, what makes Ma-Cho temple especially unique is the fact that it is the first ever Taoist temple and is the only one in the Philippines dedicated to the Chinese sea-goddess Mazu.
While you are there, you might want to offer a prayer or two. Alternatively, you might want to fill your Instagram-feed with aesthetic photos taken at various areas in the temple. Some of the interesting features you can find include the unusual spider-type dome you can find in the main building, Majestic Five Door gate as well as interiors filled with ancient Chinese decorations.
Go on a truly hip food trip
Apart from being widely regarded as Philippine's surfing capital, Urbiztondo has been generating a lot of chatter online for being a burgeoning food destination. Over the years, the town of La Union has attracted a fair share of locals and tourists owing to its association of being a surf town. Consequently, this monthly influx of tourists has inspired Urbiztondo's hipster vibe. In this regard, you can find many Instagram-worthy restaurants as well as a vibrant food scene that offers diverse options insomuch that you can start your day with a Greek breakfast by the beach and cap the night off at a local food joint.
Pick grapes at the town of Bauang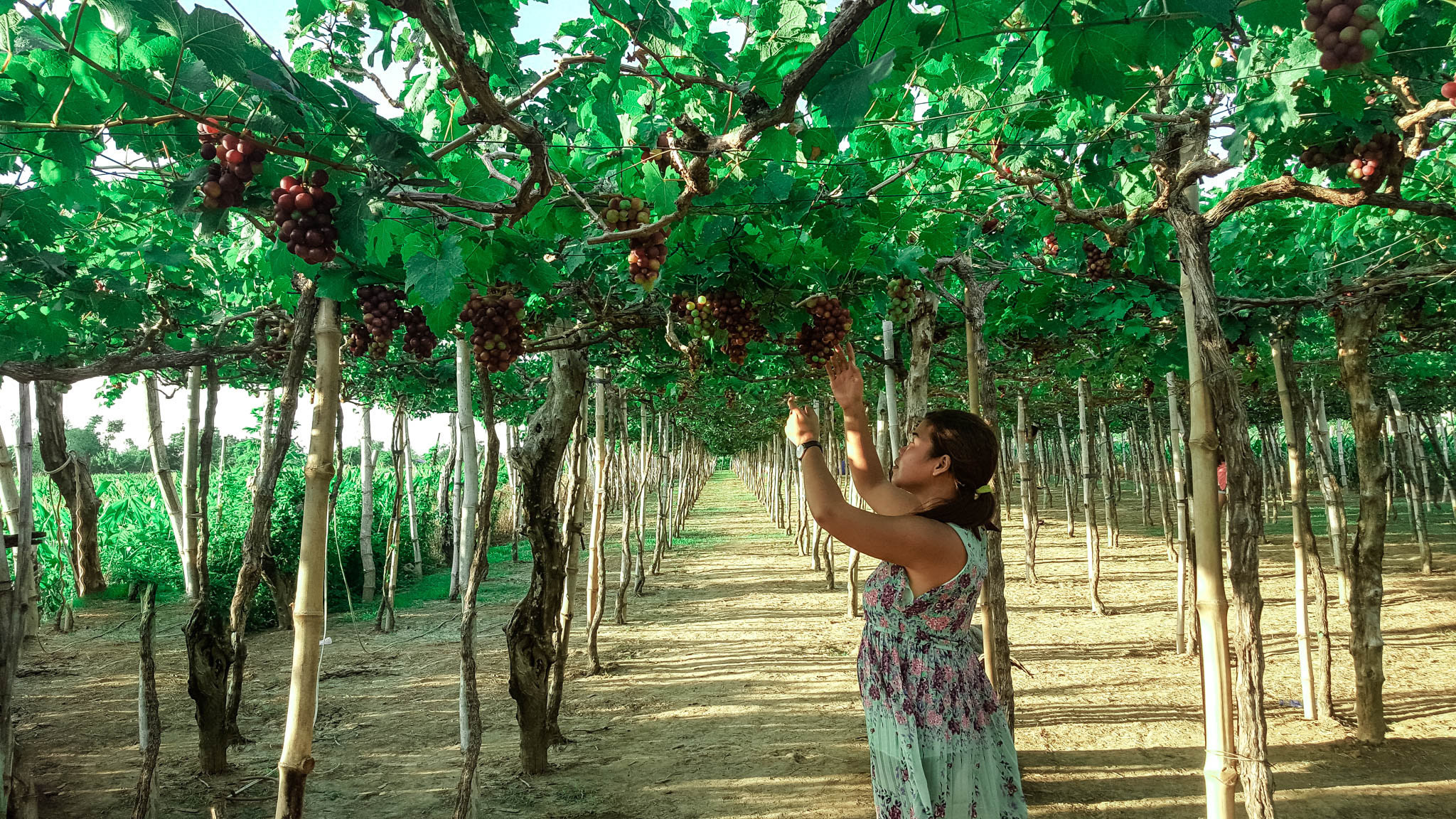 One might never have thought of picking Grapes while in La Union, but that is precisely why it should be included in your travel itinerary. Before leaving La Union, be sure to drop by some of the grape farms in Bauang where you can go grape-picking and bring your harvest back home as pasalubong. While the idea of grape-picking might be mundane and rather commonplace, the Philippines is a tropical country where grapevines rarely thrive. However, the town Bauang is a pleasant exception owing to its slightly colder weather.
Meet new friends at Flotsam and Jetsam
Part of La Union's appeal is the prospect of turning to strangers into friends by meeting them in some of the surfing town's hip bars. As La Union has become somewhat of a tourist hub owing to its allure of being the Philippine's surfing capital, it should not be surprising to find the town of Urbiztondo concentrated with travelers. If you are not particularly shy and are looking to widen your social sphere, head on over to Flotsam and Jetsam, a nocturnal destination said to be frequented by locals and tourists alike. Have a bottle of your favorite bubbly and strike a conversation or two with some friendly-looking strangers. You might not know it, but you might have potentially made a travel buddy.
Visit the Honeybee Center
Again, this is probably one of the last things you would think of doing in La Union. However, if you wish to experience an up-close and personal interaction with honeybees without getting stung then head on to the La Union Honeybee Center in Bacnotan. In here, visitors are offered a tour of the center and will learn how honey production has become one of the primary sources of livelihood among locals.
Appreciate the arts at La Union Culture and Arts Gallery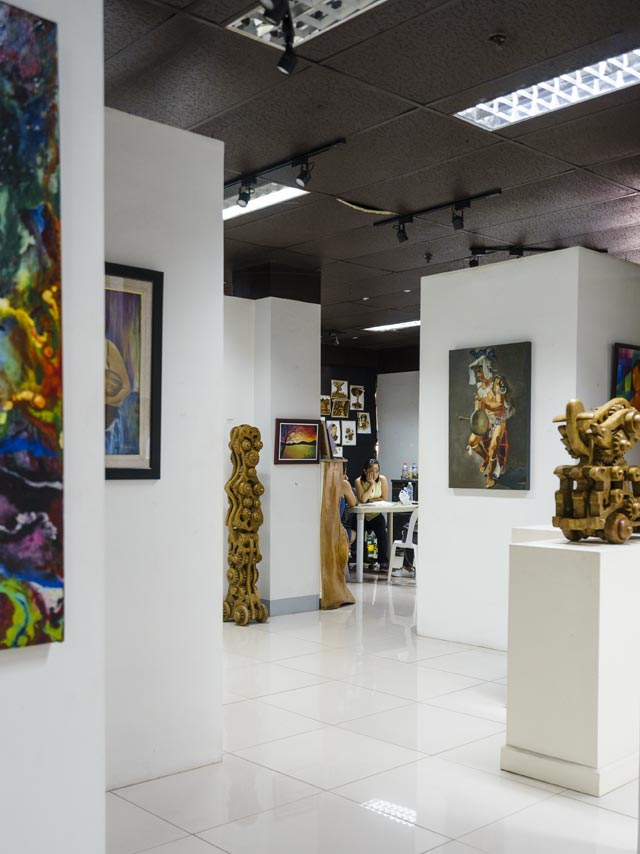 La Union has its very own art gallery which is locally dubbed as the Silid ti Adal Ken laing ti La Union Gallery. The Art Gallery showcases local art made by the talented locals themselves. Apart from that, the gallery also gives visitors a glimpse into the province's rich culture. Incidentally, this is also the home of AGLAUN (Artists Guild of La Union), the group that trains young artists from various art groups such as Guhit Pinas La Union and KARATULA.
Discover the story behind Luna's Watch Tower
La Union has its very own share of heritage sites—one of which is the St. Catherine of Alexandria Paris (also known as Namacpacan Church). The Spanish pre-colonial church was built in 1690 and currently stands right next to the town plaza. The majestic church is cloaked in grandeur insomuch that it is listed as a National Cultural Treasure and is considered as one of the grandest churches in the province. Beyond the church, however, is the Luna Baluarte or Watchtower which stands along a pebbled beach. It is said that the watchtower served as an impenetrable fortress used by the Spanish colonizers to warn residents of any pirate attacks.
WHERE TO GO IN LA UNION
BAHAY NA BATO
Bahay na Bato is a relatively new tourist attraction in the province of La Union. To get there, you need to head north to the town of Luna from San Juan. What makes Bahay na Bato infinitely interesting is that it is built from stones found along one of Luna's rare pebbled beaches. Apart from the beguiling exterior is an even more intriguing interior. In Bahay na Bato, you can find an exciting combination of stone and wooden sculptures made by Korean artist, Bong Kim peppered all over the place–making the attraction an excellent destination should you have aesthetic photo backgrounds in mind.
PINDANGAN RUINS
Adventure goes beyond than usual food and beach combo in La Union. If your penchant for exploration remains unquenched by the province's vast offerings of beaches and food joints, you might want to try something a little different such as heading over to Pindangan Ruins. Be wary though, the place is an old remnant of an old church with a monastery located right behind it. Local tales speak of headless priests that roam around the vicinity making this pit stop a must for thrill-seekers. Individuals who are faint of heart might want to skip including this in their itinerary though.
AMBURAYAN RIVER
The beautiful Amburayan river serves as a boundary of La Union and Ilocos Sur. Apart from that, it also serves as an additional source of income for the people of Sudipen. If you wish to take a break from the beach and ocean scenery, visiting Amburayan River will be a welcome opportunity.
AROSIP ECOTRAIL
The Arosip Ecotrail in La Union provides guests an avenue for adventure with Mother Nature. The eco trail is rife with magnificent views as well as towering trees which makes it truly a breathtaking sight. Adventure enthusiasts and thrill seekers will also flock to this place as it is one of the premier places for trekking in La Union. At its highest point, the trail gives way to the scenic lowland Bacnotan, the West Philippine Sea as well as other landmarks and prominent structures of the province. It also showcases four beautiful waterfalls (Zim-sim-ug Twin Falls, Tekdag-aso Falls (combined water of 2 waterfalls), Pad-tok Falls)
WHERE TO EAT IN LA UNION
Olas Banditos
Mexican lovers will definitely love this hip and authentic Mexican joint in La Union. Olas Banditos is a restaurant in La union that promises to satisfy your Mexican food cravings whether you just came from a surfing session or are nursing a hangover from a night of partying. Some of the restaurant favorites are an order of chicken quesadillas, fish tacos and flautas as well. However, if you wish to try something a little more unique and a bit more appropriate to the place, you should give the Ilocos Norte burrito a try. Apart from the usual fillings you would find in a typical burrito; this burrito is filled with Ilocos or Vigan longganisa which gives it quite the different but interesting flavor.
Great Gamble Seafood Shack
Being so close to the beach and inhaling the crisp and salty sea air would definitely give us a hankering for fresh seafood. Lucky for you, La Union has its fair share of seafood restaurants that would surely satisfy your seafood cravings in no time. One of the more interesting seafood shacks is the Great Gamble Seafood Shack which is known more for their seafood sandwiches and rolls rather than your typical seafood fares. A must-try is their Classic Quarter Pounder–a sandwich that is filled with scallop, shrimp and ¼ crab in a brioche roll in lieu of a beef patty. The restaurant also serves a good range of seafood pasta dishes as well giving diners an extensive set of menu options.
Tagpuan
Located at the side of Mad Monkeys burger restaurant, Tagpuan is a local La Union restaurant that serves your typical Filipino food. The place specializes in Filipino rice bowls topped with Filipino favorites such as pares, chicken adobo flakes, tapa and the like. However, it has been said that the restaurants best offering is the bagnet rice bowl which is priced at a hundred and twenty pesos. Bagnet is a staple food in the Ilocos region. This supremely crispy fried pork belly dish is incredibly succulent that you should not be surprised if you would go for a second helping of this delicious pork belly dish.
Sabong La Union Fried Chicken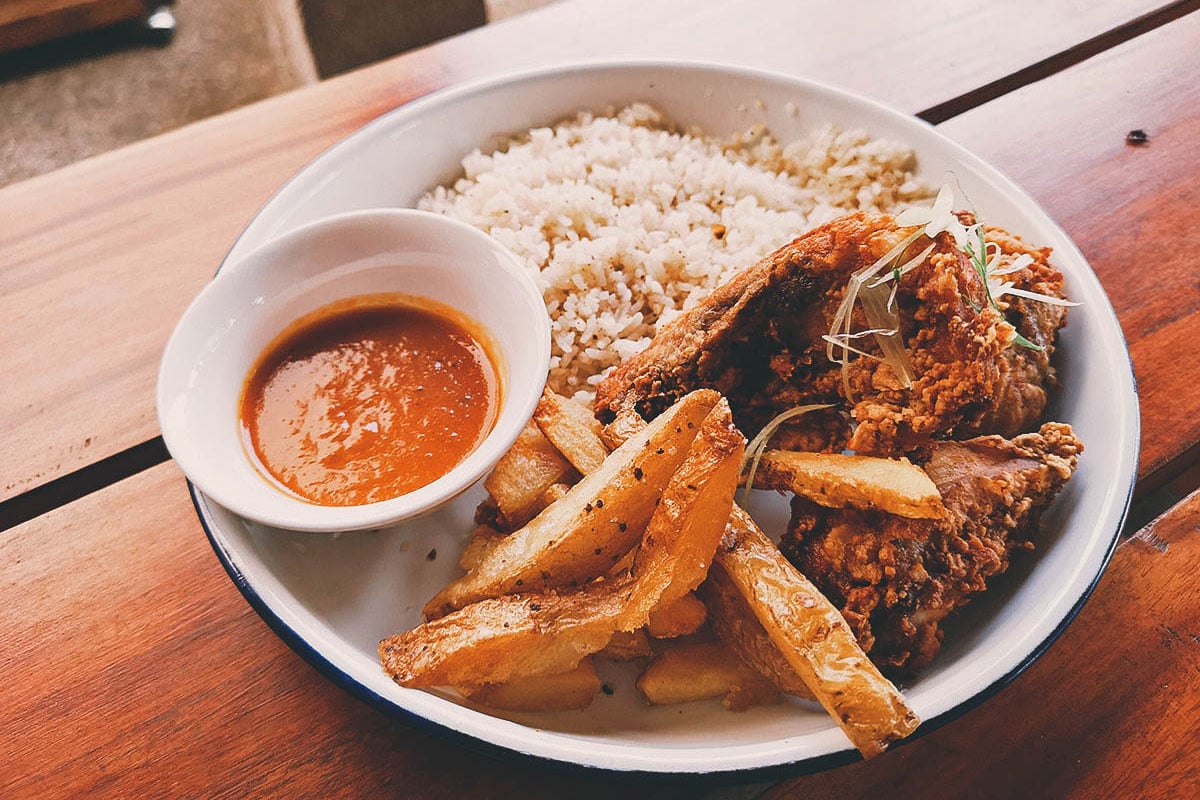 A plate of crispy fried chicken, regardless of what time of the day it is, will always be a good idea. Sabong la Union Fried Chicken restaurant seems to share this sentiment as they offer different types of fried chicken at any time of the day. Some of their flavors include Korean soy chicken to chicken glazed with honey and bagoong (fermented shrimp paste). Fried chicken lovers will definitely see themselves coming back to this restaurant more than once just to sample more of their fried chicken flavors.
El Union Coffee
In lieu of commercialized coffee chains such as Starbucks and The Coffee Bea Tea Leaf, why not try a café that is a little more localized but bursting with interesting coffee flavors? El Union Coffee is La Union's very own Starbucks, and while La Union has its very own Starbucks in town, El Union Coffee surpasses the ubiquitous coffee shop in terms of popularity in the area, and it is easy to see why.  El Union is often featured in some TV segments, internet, and news articles that feature La Union primarily for their cold brew coffee and horchata. In fact, the place is incredibly popular insomuch that a trip to La Union would be incomplete without including this trendy coffee shop in your travel itinerary.
Halo-Halo de Iloko
As the name suggests, Halo-Halo de Iloko is an eatery in the neighboring town of San Fernando that specializes in Halo-Halo dishes. If you are looking for an excellent spot to cool down after a surfing session, Halo Halo de Iloko is a great place to stop by. Be wary though as the place is typically packed with big groups of diners waiting to be seated. So, if you wish to sample their famous halo-halo, coming during off-hours such as early in the morning or in the middle of the afternoon might be your best bet.
How to get around La Union
Getting around La Union is as simple as taking a jeepney which costs PHP 11 or a tricycle ride to your destination which typically costs PHP50 which are the province's two main modes of transport. Alternatively, if you brought a car with you, it is fairly easy to get around with the aid of a GPS app on your mobile phone.
Other travel tips for visiting La Union
Take the bus
Admittedly, while taking your own car gives you better leverage on where and when to stop, taking the bus will ultimately save you a lot. Alternatively, you might want to hire a van if you are traveling with a large group as this allows you more comfort as well as stop whenever and wherever you wish.
Visit during off-peak seasons
As La Union is a widely visited Northern Luzon destination, it is easy to see why the prices would skyrocket during the holidays and long-weekends. Tourists prefer visiting the province during the surf season which means that the place can get rather crowded and ultimately making it difficult for you to book affordable deals. April to July might not be the best month for good waves, but you can find better prices.
Book accommodations that are easy on the pocket
La Union has a good range of lodging accommodations which means you can find anything from affordable budget hotels to luxury hotels. If you wish to make the most out of your trip, opt to stay in cheap hostels as you will be spending most of the day outside anyhow.
Buy food at the local market
If you wish to save up on food, buying food from the local market might be your best option. On average, a typical meal would set you back for about two-hundred pesos which can be quite expensive if you take three meals a day. In lieu of restaurants and eateries, opt to buy raw food at the nearest market and have it cooked or grilled for a minimal fee.
Travel with a group
It is common knowledge that traveling with a group can save you a lot. All of the potential expenses will be divided equally—from the accommodation expense to the tour guide fees. More importantly, it is a lot more fun to travel in a group than to venture out alone.
If you do not have any plans for the summer yet, why not kick it off to high gear by commencing it with a trip to La Union? Apart from being the surfing capital, the province has a lot to offer surfers and non-surfers alike that each and every traveler stopping by will find something that would appeal to them in one way or another.