La Union has always been regarded as Northern Luzon's long weekend or holiday retreat.
Apart from being considered as one of the Philippine's top weekend destinations, La Union (or Elyu as millennials so fondly call it) is also a backpacker's paradise. In this regard, it is inevitable for the province to see an influx of both local travelers and tourists at any time of the year.
Given the easy commute and road improvements, it should come as no question that La Union has become somewhat of a fan favorite weekend destination among city dwellers. More importantly, the province is packed with so many things to do insomuch that all kinds of travelers would be able to pepper their itinerary with various things to do.
While it is known as the surfer's capital, La Union is also known for its distinct and fun nightlife, interesting sights, pristine beaches, and sumptuous food—all of which have been reasons enough to pique the interest of foreign tourists and entice local travelers to come and visit.
For those who intend to stay a few days to explore the province, a plethora of beach resorts, inns and hotels are readily available to accommodate you. La Union offers a wide range of accommodations that would suit just about any traveler out there.
Whether you are on your own, with a group or on a tight budget or looking to splurge on a luxurious and comfortable stay, accommodations in La Union would not be a problem. So, if you are wondering where to stay in La Union, here are some of the top accommodations suitable for a wide range of travelers.
Where to stay in La Union
Address: Poro Point, Freeport Zone, San Fernando, 2500 La Union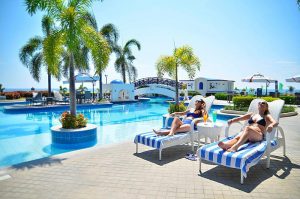 Considered as the best hotel in San Fernando, Thunderbird in Poro Point is one of the most luxurious accommodation options available in La Union. This Santorini-inspired hotel has its very own private beach, a swimming pool, luxe rooms, and villas as well as a 9-hole golf course.
Indeed, travelers who wish to have the most luxurious and comfortable stay possible should look no further than the Thunderbird Hotel. The fully-serviced hotel complemented by a relaxing ambiance and atmosphere will be all you need to complete your experience.
2. Vessel Hostel
Address: Urbiztondo, MacArthur Highway, San Juan, 2514 La Union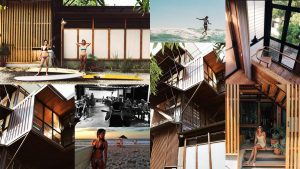 Vessel Hostel is one of La Union's uniquely designed hostels. The brainchild of surfer architects Buji Libarnes and Nikki Dela Paz-Libarnes, the Vessel Hostel is an accommodation in La Union that puts emphasis on green practices and sustainability.
The four-level hostel is made from repurposed shipping containers and is located right next to their home. It is ideal for backpackers who are looking for a relaxed ambiance as well as a vintage aesthetic. The hostel has a typical dormitory layout, and a total of twenty-two beds split into four bedrooms with for beds and one room with six beds.
3. Camp Avenue
Address: San Juan, 2514 La Union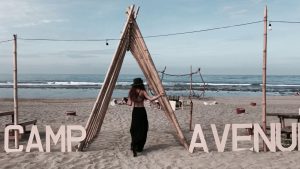 Ideal for travelers who do not mind roughing it out by the beach, Camp Avenue is one of La Union's most affordable accommodations. Travelers who wish to book this accommodation have the option of either renting a tent that comes with all the essentials (pillows, insulation foam, toiletries and breakfast the next day) or opt to pitch their own gear by themselves. For travelers who wish for a room kind of setup, huts are also available, and it comes with foam beds.
Relaxed and laidback are two things that perfectly characterize Camp Avenue, a no-frills kind of accommodation in La Union perfect for travelers who are just looking to chill out.
4. Flotsam and Jetsam Artist Beach Hostel
Address: MacArthur Highway, San Juan, La Union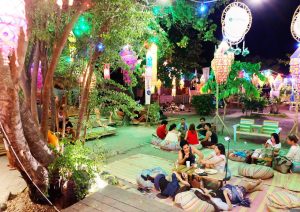 Flotsam and Jetsam Artist Beach Hostel—as the name suggests—is where you will likely find artists and hip young musicians. Regarded as one of the most popular hostel options in La Union, it is known for its cool interiors as well as its nice lodging options.
More importantly, it is located smack dab in the middle of the busiest area in La Union, so it is a given that popular restaurants and hangouts will be within walking distance from the hostel.
5. The Little Surfmaid Resort
Address: 170 Urbiztondo along PH PH, MacArthur Highway, San Juan, 2514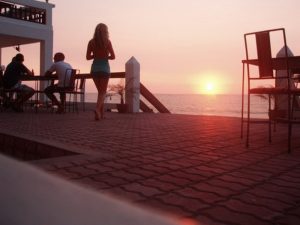 Travelers who wish to start their day waking up to the sound of crashing waves or the picturesque beachfront view should book their accommodations with The Little Surfmaid Resort. This resort in La Union is one of the few affordable resorts that come with a beachfront, which makes it the best option for the most bang out of your buck.
Apart from the scenic view and ideal location, the resort also comes with amazing staff and comfortable rooms at very reasonable prices. So, if you are looking for affordable lodgings that come with good services and a chill ambiance, The Little Surfmaid Resort is perfect for you.
6. The Circle Hostel
Address: The Circle Hostel La Union Barangay Urbiztondo, San Juan, 2514 La Union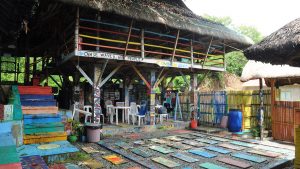 One of the most affordable surf hostels in La Union, The Circle Hostel has remained a fan favorite among travelers, beach enthusiasts, and surfers. The hostel's popularity can be credited to its uniquely interesting space and artsy vibe—both of which appeals to travelers and piques the curiosity of bypasser.
If you are traveling alone and wish to make new friends, The Circle Hostel might just be the perfect accommodation for you. Living up to their motto of having no strangers in their hostel, they have strategically placed a communal area intended for befriending anyone.
7. Urbiz Garden Bed and Breakfast
Address: 134 Beachfront, MacArthur Highway, Barangay Urbiztondo, San Juan, 2514 La Union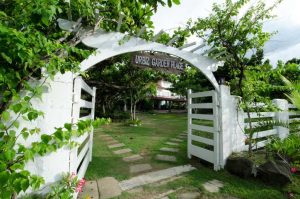 Couples on a romantic getaway would wish for a more intimate or private setting. Luckily, La Union has its fair share of bed and breakfast accommodations that would address this very need. Urbiz Graden Bed and Breakfast was originally built as a family vacation house for private use in 2001.
However, as La Union slowly gained traction as a tourist destination and with the yearly influx of travelers and tourists, the owner decided to open its doors to guests in 2007. Perfect for newlyweds on a honeymoon or couples who are looking for a little more privacy and away from the general buzz of activity.
Since it opened in 2007, this bed and breakfast type of accommodation has maintained its countryside charm complemented by home-cooked Ilocano meals and wooden floorboards and furniture that are reminiscent of home. As the location is quite far from the usual throng of crowds in La Union, you are ensured of utmost privacy for your romantic retreat.
If you have figured out what kind of traveler you are and have laid out an itinerary for you to do in La Union, you should be able to pick out the perfect accommodation for you with the choices laid out above. So, whether you are looking to surf, swim, lounge, eat or play, you already know where to book your stay and make the most out of your La Union experience.